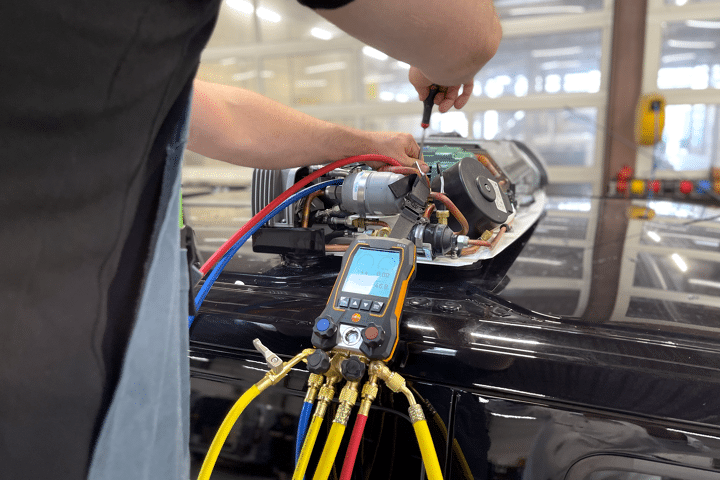 Cooling system service
In order to get the maximum return from your cooling installation, it is important to keep it in good condition through regular maintenance. In addition, you must be able to indicate during an inspection that the installation has been properly maintained and repaired.
Maintenance
of refrigeration and freezing installations
You can have your refrigerated or freezer van serviced by us. We have years of experience with different brands and types of cooling systems, including Thermo King, Carrier Transicold and Zanotti. When you have your cooling system serviced by us, we will inform you about its status and advise you about possible actions to be taken. In addition, we help you to keep costs under control. We do this, among other things, by checking parts before we proceed to replace them. In case of doubt, we will consult with you first, before we proceed.
Cooling installations

for light commercial vehicles

As the owner or user of a cooling installation, you want to get the maximum return from your installation in a responsible manner. You must comply with regulations and you are responsible for the cooling installation and the condition in which it is in. By means of work registrations, you must be able to demonstrate that the installation has been properly maintained and repaired. We can help you by servicing your cooling installation.
Purchase of a
refrigerated vans
If you want to purchase a refrigerated van, freezer or multitemp, or want to have a van converted into refrigeration van, you have come to the right place. We have a wide range of refrigerated and freezer vehicles in stock. And we have an even larger stock of vans and small box trucks that we can convert into refrigerated transport in-house. For this we work with an extensive range of cooling installations. Please contact us, we will be happy to inform you about the possibilities.
Maintenance-form
Let us know how we can help you!